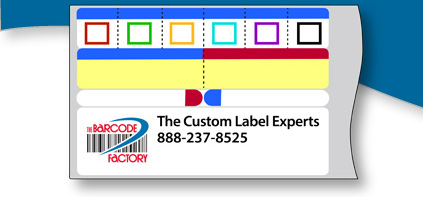 5-Stage Process to make a custom barcode label
Creating a custom barcode label is cheaper than you think! There are online services available from reputable companies such as barcodefactory which has been in the business of creating custom labels for business's locally and across the country. They boast a wide selection of choices available for creating a custom made label to suit your business needs and application. Custom labels can be identified in a 5-step process as listed below to give you a better idea on how easy it is to setup a specific size, shape and type of label even using your own company logo.
Let's identify each of the steps in creating a custom label below.
1. Select your label width and length to get started.
Any shape, Any Size can be used for making a custom barcode label
There are literally thousands of custom dies on hand.
2. Choosing a colored label or blank white stock for your label
Floodcoat the entire label of portions using any solid or screened colors.
Fluorescent colors also available. Up to 6 PMS colors or four-color process for any image.
3. Choose between paper or a synthetic material types. 
Multiple substrates: Paper, Paper Tags, Synthetic, Synthetic Tags,
V-Max Polyolefin, Kimdura Polypropylene, Reflective, Polyester,
Polypropylene, or Vinyl in various thicknesses.
4. Select your label adhesive type whether it's permanent or removable.
A wide range of adhesives from ultra permanent to removable.
Low or high temperature adhesives.
5. What type of Liner or Backing Material?  (Roll or Fan-Fold)
Standard silicone coated paper in various thicknesses.
Clear Polyester offers less mass, weight and is recyclable.
Slits or printing on liner back.
At the Barcodefactory you can find blank or pre-printed retro-reflective labels and signs in both stock and custom sizes. We have rack mounted labels, or labels mounted to plastic signs. We also pre-print variable data barcode as an option, so you can receive your labels ready to deploy. Our variably printed retro-reflective labels are tested for 100% readability.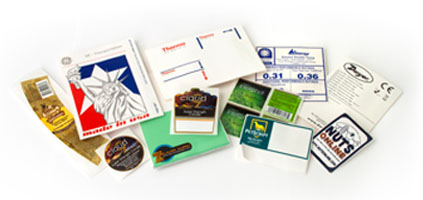 They offer the absolute lowest prices on all custom label products.
Save an average of 10-20% on barcode labels, pressure sensitive labels, thermal labels and more, plus long-term fixed pricing.
Custom label quotes are FREE